https://www.theguardian.com/world/2016/jul/29/lord-forgive-so-much-cruelty-pontiffs-parting-words-at-auschwitz (2)
The pontiff had earlier passed through the infamous gates of the concentration camp, emblazoned with the words "arbeit macht frei" – work sets you free – alone and on foot. Ironically, after two days of downpours and leaden skies since his arrival in Kraków, a bright sun shone on one of the darkest places on earth.
At Block 11, he was greeted by a dozen grey-haired survivors, stooped and frail, resting on sticks. He paused to kiss each of them, exchanging a few words, clasping hands.
One man presented him with a black and white photograph, apparently showing a group of gaunt inmates in the camp. The man pointed to the picture, and then to himself: this was me.
Another was Eva Umlauf, who was almost two years old when she was taken to Auschwitz in 1944. Her mother gave birth to Eva's sister, Nora, at the camp shortly after it was liberated in January 1945. Seventy-two years later, Umlauf still bears her camp number, A26959, tattooed on her arm.
The last survivor in the line at Block 11 handed Francis a lit candle, which he carried to the "wall of death", against which thousands of prisoners were shot. Reaching out to rest his right hand on the wall, he bowed his head.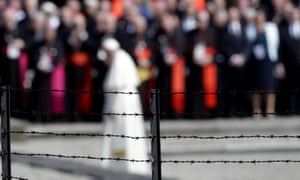 He then descended steps to the bleak narrow corridors leading to Kolbe's cell. After emerging from his contemplation, he wrote, in Spanish, in the Auschwitz memorial's guest book: "Lord, have pity on your people. Lord, forgive so much cruelty."
At the nearby Birkenau camp, part of the Auschwitz complex, the pope slowly passed along a monument to camp victims, situated between the ruins of the two biggest gas chambers and crematoria, pausing to read inscriptions in 23 languages. Poland's chief rabbi, Michael Schudrich, hauntingly recited Psalm 130 in Hebrew: "Out of the depths I cry to you, Lord".
Francis greeted more survivors and their families, many wearing blue striped scarves in an echo of camp uniforms. They were joined by dozens of Polish Catholics who had risked their lives to shelter Jews during the Nazi occupation of their country. The more agile knelt to kiss the pope's hand.
Two girls, dressed in white with neat plaits hanging down their backs, were presented. One clutched a framed family portrait of their long-dead relatives, Józef and Wiktoria Ulma, who were shot along with their six children in 1942 for sheltering a group of Jews.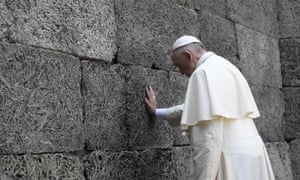 Yad Vashem, the Holocaust museum in Jerusalem, has acknowledged more than 6,500 Poles as "righteous gentiles" for risking their lives to save Jews.
The Auschwitz-Birkenau memorial and museum, 40 miles from Kraków, was founded in July 1947, two and a half years after the camp's liberation by Soviet troops. It incorporates 150 buildings and 300 ruins, including the remains of the gas chambers and crematoria blown up by the Germans as Soviet forces were advancing. Last year, 1.72 million people visited the site.
Piotr Cywiński, the director of the Auschwitz-Birkenau memorial complex, said he respected the pope's decision to remain silent.
"There are places and tragedies which make you at a loss for words, where actually there are no words to express what so many still see as unimaginable," he said the day before the visit.
"This is a world which is desperately in need of a wise message, of being reminded of the fundamental human truths. Auschwitz and the tragedy of the Holocaust sensitise us acutely to these issues."