https://www.theguardian.com/environment/2019/mar/15/its-our-time-to-rise-up-youth-climate-strikes-held-in-100-countries
It's our time to rise up': youth climate strikes held in 100 countries
School and university students continue Friday protests to call for political action on crisis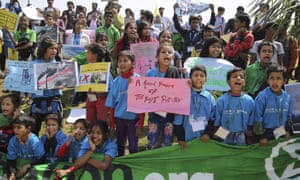 Tens of thousands of children and young people in more than 100 countries have gone on strike to challenge politicians to take decisive action on climate change.
From small actions, like that of students who went on strike for the first time across India, to large demonstrations in the UK, Germany, Italy, Belgium, Sweden and Australia, the strike for climate action spread across more than 2,000 events.
The co-ordinated strikes were organised via social media by volunteers in the countries under the banner of Fridays for Future.
In India, more than 200 children walked out of classes in Delhi to protest against inaction on tackling climate change, and similar protests took place on a smaller scale in 30 towns and cities. Vidit Baya, 17, who is in his last year at MDS public school in Udaipur, said: "In India no one talks about climate change. You don't see it on the news, or in the papers or hear about it from government.
"This was our first strike as a nation and there were young people taking strike action in many cities. It is a fledgling movement but we are very happy with our action today, we are trying to get people to be more aware of climate change and the need to tackle it."
Political leaders in some countries criticised the strikes. In Australia, the education minister, Dan Tehan, said "students leaving school during school hours to protest is not something that we should encourage". His counterpart in the UK, Damian Hinds, claimed the disruption increased teachers' workloads and wasted lesson time.
But young people brushed off the criticism. An estimated 30,000 school and university students, parents, staff and activists gathered in Sydney to march from Town Hall Square to Hyde Park to demand action on climate change.
Xander De Vries, 20, from the University of New South Wales, told Australian Associated Press: "It's our time to rise up, we don't have a lot of time left, it's us who have to make a change so I thought it would be important to be here and show support to our generation."
Jean Hinchcliffe, 14, striking in Sydney, said on the Today programme: "I have been really frustrated and really angry about the fact I don't have a voice in politics and I don't have a voice in the climate conversation when my politicians are pretty much refusing to do anything … So I decided to strike and … suddenly us kids are being listened to and that's why we continue to strike and feel it's so important."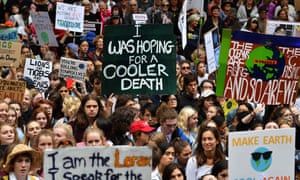 The global day of action has been inspired by the teenager Greta Thunberg, who protests every Friday outside Sweden's parliament to urge leaders to tackle climate change.