President Biden: "My whole soul is in this"
From CNN's Elise Hammond
President Biden, after taking the oath of office, talked about the importance of unifying the country, saying "my whole soul is in this."
"Today, on this January day, my whole soul is in this: Bringing America together, uniting our people, uniting our nation," he said.
The President called on Americans to come together to overcome the extraordinary challenges that face the nation – an idea that he often mentioned on the campaign trail
"To overcome these challenges, to restore the soul and secure the future of America requires so much more than words and requires the most elusive of all things in a democracy, unity," Biden said.
"Uniting to fight the foes we face. Anger, resentment and hatred, extremism, lawlessness, violence, disease, joblessness and hopelessness. With unity we can do great things, important things," he added.3 min ago
Biden warns of "winter of peril" as he enters office
From CNN's Kevin Liptak
President Joe Biden offered a forewarning during his inaugural address Wednesday, describing the nation as weathering a "winter of peril" amid a generational pandemic and other ailments.
"We'll press forward with speed and urgency," he said. "We have much to do in this winter of peril and significant opportunities."
Biden said the predicaments currently facing the nation were historic, and said few Americans "have found a time more challenging than the time we are in now."
He said coronavirus "silently stalks the country" and noted more lives have been lost to the disease than were lost in World War I.6 min ago
Biden thanks predecessors from both parties: "I thank them from the bottom of my heart"
From CNN's Maureen Chowdhury
President Joe Biden thanked his predecessors from "both parties" in his inauguration remarks to the nation, including those who couldn't be present.
"I thank my predecessors of both parties for their presence here today. I thank them from the bottom of my heart… And I know the resilience of our Constitution and the strength, the strength of our nation, as does President Carter, who I spoke with last night, who cannot be with us today, but whom we salute for his lifetime in service," Biden said.
He acknowledged the power that comes with taking the "sacred oath" that was taken by former presidents.
"I have just taken a sacred oath each of those patriots taken. The oath first sworn by Washington. But the American story depends not on any one of us, not on some of us, but on all of us. On we, the people, who seek a more perfect union. This is a great nation. We are good people," Biden said.3 min ago
Biden: "The will of the people has been heard"
From CNN's Aditi Sangal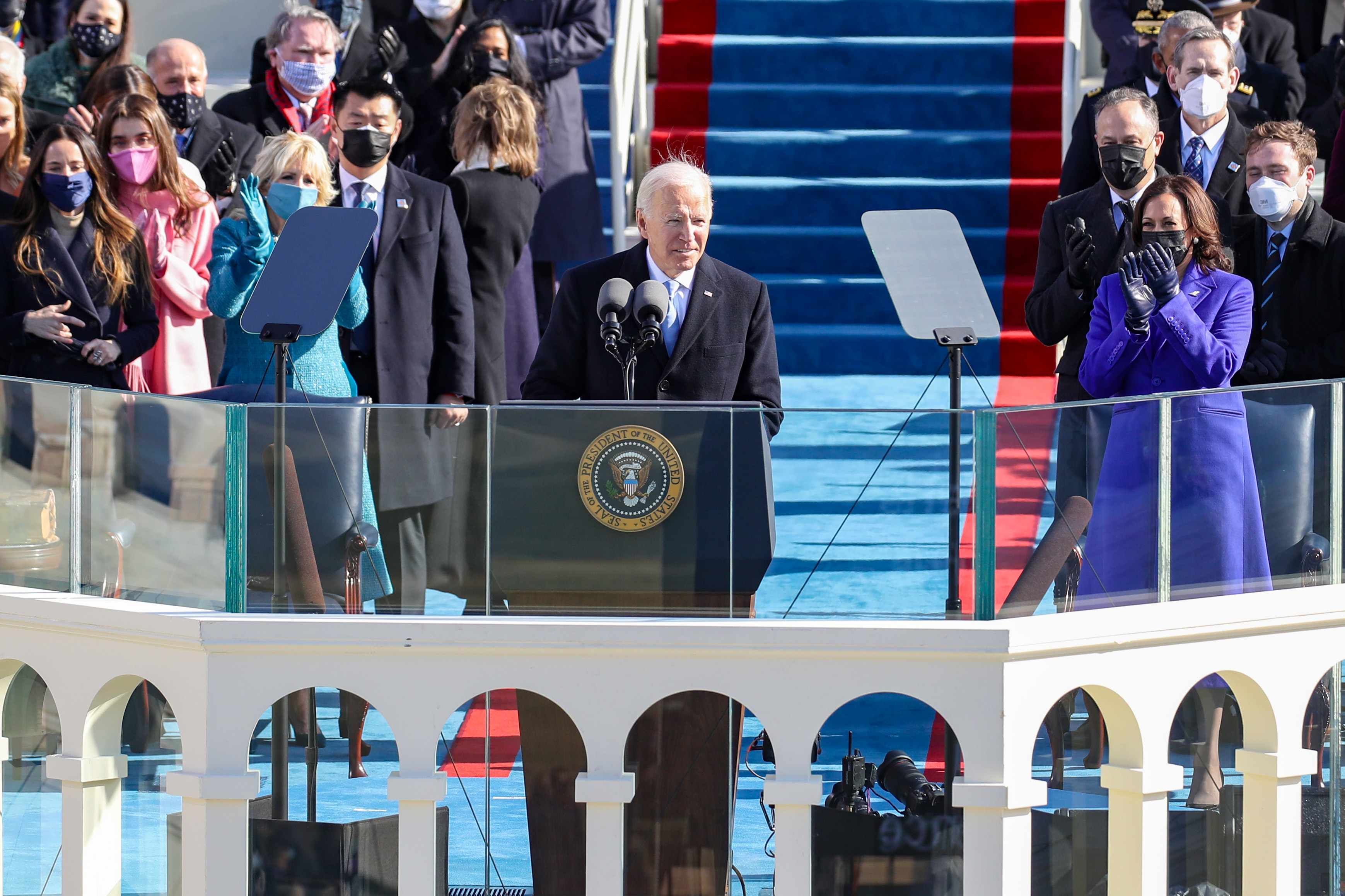 After taking the oath of office, Joe Biden said that the Inauguration Day was a celebration of democracy and that the "the will of the people has been heard.""Today we celebrate the triumph, not of a candidate, but of a cause — the cause of democracy. The will of the people has been heard, and the will of the people has been heeded. We've learned again that democracy is precious. Democracy is fragile. And at this hour, my friends, democracy has prevailed."9 min ago
Biden delivers inaugural address: 'Democracy has prevailed'
Joe Biden received a standing ovation as he took the podium to deliver his inaugural address, his first speech as president.
After thanking those present at the inauguration, Biden said, "This is America's day. This is democracy's day."
The president referenced the violent attack on the Capitol two weeks ago, saying it underscored the value of American democracy.
"We've learned again that democracy is precious," the president said. "And at this hour, my friends, democracy has prevailed."