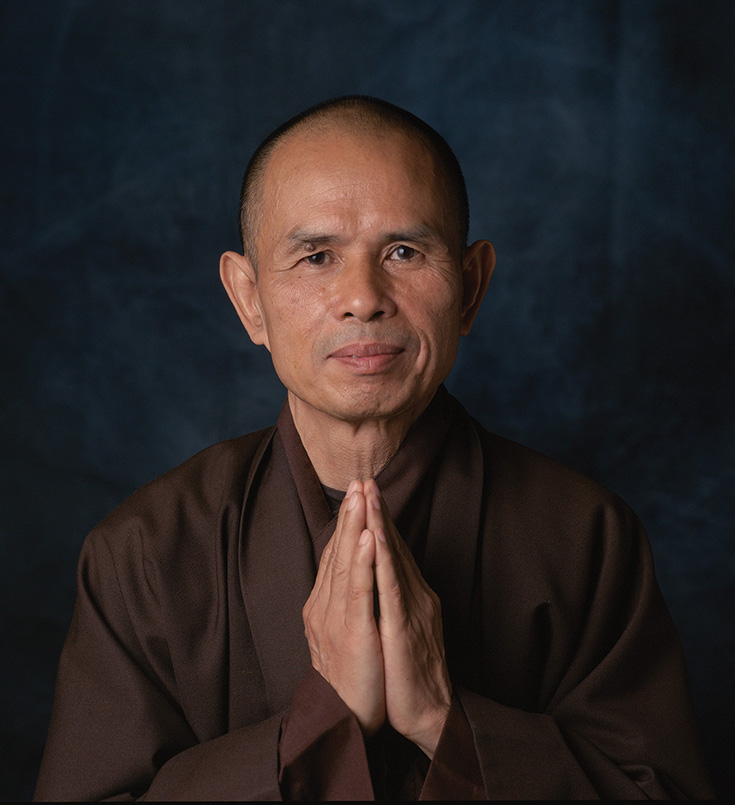 Our own life has to be our message. —Thich Nhat Hanh
"In his ninety-second year, Thich Nhat Hanh is recognized as one of the world's most influential spiritual teachers. His bestselling books have taught dharma and mindfulness to millions. He has inspired generations of peace and environmental activists. He has gathered a devoted community that will carry his teachings into the future. He has helped take Buddhism out of the monasteries and temples into every aspect of our lives today. He has created immense benefit.
With His Holiness the Dalai Lama, Thich Nhat Hanh is the leading voice of Buddhism in the West. He has sold more than three million books in America alone, including classics such as Being Peace, The World We Have, The Miracle of Mindfulness, and The Heart of the Buddha's Teachings. Translated into thirty-five languages, his more than one hundred titles range from accessible teachings on mindfulness in daily life to scholarly works on Zen, sutras, and Buddhist psychology, plus children's books and poetry.
In his books and teaching, Thich Nhat Hanh has applied Buddhist philosophy and practice to relationships, politics, community, environmentalism, policing, and international affairs. He launched Wake Up, a worldwide movement for young people to train in mindful living, and created an international Applied Ethics program to train teachers to teach mindfulness in schools.
Thich Nhat Hanh has created a worldwide community of more than six hundred monastics and tens of thousands of lay students. Plum Village in France remains the community's most important monastery and program center, and in the U.S. he has established Deer Park Monastery in Escondido, California; Blue Cliff Monastery in Pine Bush, New York; and Magnolia Grove Monastery in Batesville, Mississippi. Lay students can join more than a thousand practice communities in cities and towns throughout North America and Europe.
Thich Nhat Hanh's vision of a socially and politically engaged Buddhism has developed into a worldwide movement that inspires Buddhists of all schools who are committed to peace, social justice, and protecting the environment. Nhat Hanh himself has led peace marches, addressed the U.S. Congress, and brought Israelis and Palestinians together to meditate. The year he turned eighty, he delivered an address to UNESCO calling for a reversal of the cycle of violence, war, and global warming.
In November of 2014, Thich Nhat Hanh suffered a serious stroke. It would be ten months before he would speak again, and then only a few words. While he is not expected to resume his public role, his teachings will continue. A treasury of profound writings, a vibrant sangha, and tens of thousands of inspired practitioners will bring his message to future generations. Above all, as he wrote in The World We Have, "Our own life has to be our message." His life of courage, compassion, and enlightenment is his greatest teaching."